Takasugi Pharmaceutical Co.,Ltd is contributing to the preservation of our global environment.
At our company various systems are formulated in order to help preserve the natural resources of our environment.
We are ISO 14001:2015 certified.
We are currently incorporating the ISO 14001:2015 policy into our environmental management system.
Received ISO 14001:2015 Certification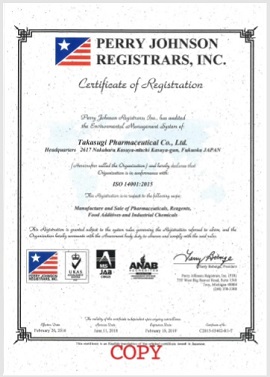 Certificate of Registration[Our company obtained ISO 14001:2015]
Scope of Acquisition

Manufacture and sale of Pharmaceuticals, Reagents, Food Additives and Industrial Chemicals.